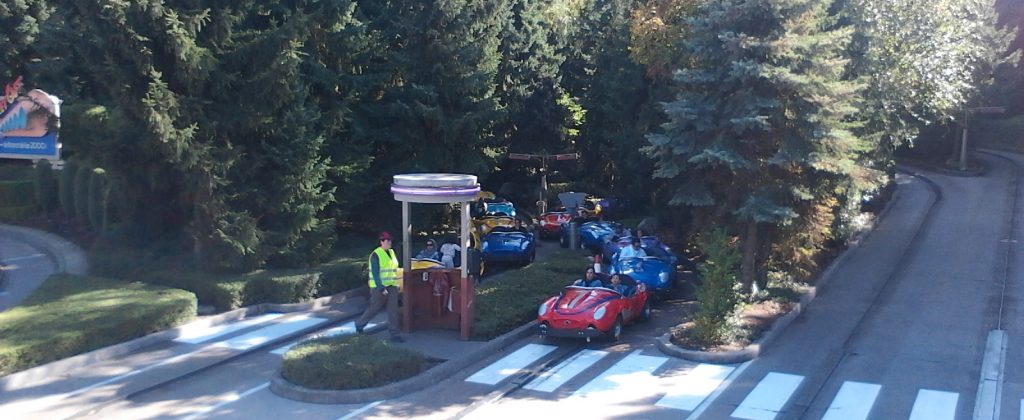 Rendez-vous in a futuristic but also retro universe, and board one of the 72 superb Autopia Mark VIII, beautiful futuristic cars imagined in 1950. You will be able then to wander in a quiet although sinuous circuit.
Autopia made its debut in Disneyland, California, with a different theme. Here at Disneyland Paris, you drive on the Highway of Tomorrow. The futuristic side is thus really present and anchored. On board your Autopia Mark VIII, you cross Solaria, a city of skyscrapers.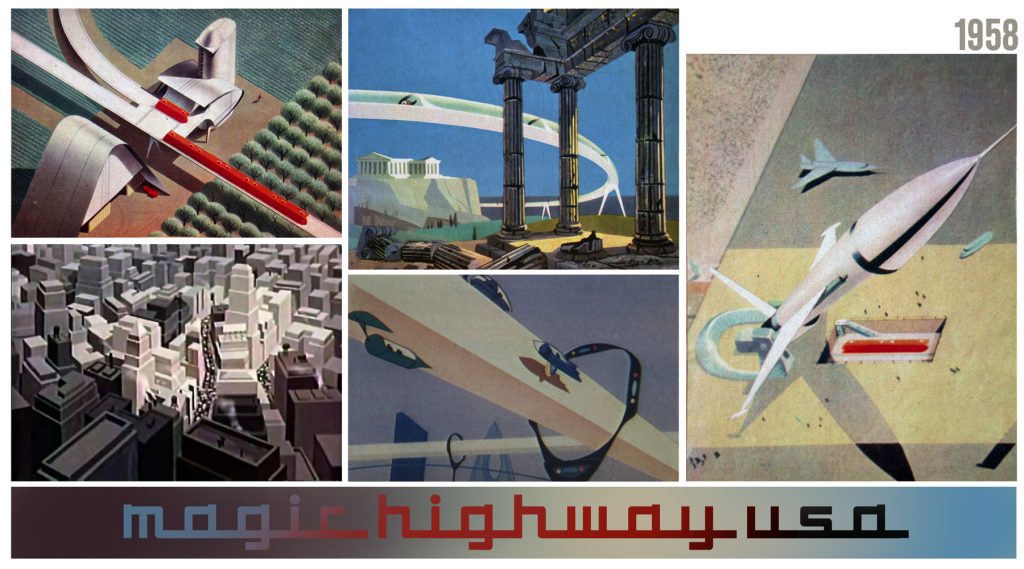 When Autopia was imagined, Imagineers looked for "futuristic" highway versions and found the gem in magazines like Popular Science, from the 1930s, in the same way that Magic Highway was imagined and made, a Walt Disney movie from the 1950s that clearly inspired the attraction. At the time, it represented the future, and it was above all a science fiction movie, whereas it is reality for us. So this movie was Autopia's starting point.
The Parisian version thus represents a mixture of Magic Highway, Autopia from Disneyland in California, with sinuous turns reminiscent of spaghetti, and Autopia from Magic Kingdom in Florida, longer but simpler.
Autopia Mark VIII
Your small car consists of a steering wheel and an accelerator, allowing you to go up to 12.5km. The two boarding bridges will lead you to 4 different circuits of 5 minutes drive. No safety concerns, though!
A guide rail allows everyone, even the smallest, to drive the Autopia Mark VIII, even in the tightest corners. The car is surrounded by bumpers, to avoid collisions in front and behind.
The "toy" side of the car is due in particular to Mattel, Autopia's partner at the opening of the attraction and the Disneyland park on 12 April 1992. The inspiration was found once again in the design of old cars. Some accessories from old cars have been recovered to customize each Autopia Mark VIII. So every car is completely unique.
Who is Autopia for?
Guests must measure at least 81cm to ride the attraction, and at least 1m32 to drive the Autopia Mark VIII.
This attraction is for the youngest who will enjoy this picturesque drive, and the opportunity to drive themselves!
What you might want to know
Waiting time: 30 to 60 minutes
Loved by: children
Side by side seating: 2
Minimum size: 81cm as a passenger and 1.32m as a driver
Pregnant women: forbidden
Fastpass: no
Single rider: no
Extra Magic Time: no