From 1st october to 1st november 2015, celebrate the most frightening season at Disneyland Paris.
In the morning :
Mickey's Halloween Celebration
Not only villains like to celebrate Halloween : Mickey and his friends created a little parade with autumn colors. Mickey's Halloween Celebration will give Disneyland PArk it's tempo, with emblematic characters, like Three Little Pigs, Horace Horsecollar, and Clarabelle Cow, but also with Donald, Daisy, Huey, Dewey and Louie Duck, and of course Scrooge McDuck. On the programme : country music, orchestrated by Mickey, Minnie and their friends.
Goofy and his sweets machine
There is no halloween without sweets! And Goofy won't disagree: This improvised scientist, crazy about sweets, is proud to present his bizarre machine that create… sweets !  Even if Goody love to strike a pose next to his machine, he may, with the help of his assistants, give away some sweets …
Halloween costumes' corner
There is no Halloween without disguises ! Stitch and Minnie loved this festival, and can't wait to show their costumes to everybody for this season. Go to the Halloween Costume Corner next to Casey's Corner for very colorful creations and laughters !
Un peu plus de mystère avec le héros de L'Etrange Noël de Monsieur Jack de Tim Burton
He's back : Il est de retour. Jack Skellington, king of pumpkins and guide of Halloween Town, set up to Frontierland. A great opportunity to meet the hero from The Nightmare before Christmas, by Tim Burton.
Ghosts on Main Street, U.S.A.
Let's talk about scenery : surprising pumpkins, named "Potirigolos" will set up in Main Street U.S.A, while the ghosts of the ancients residents will take advantage of Halloween to go out ! Another chance to have a lot of fun pictures !
« Meet Disney Characters » including Marie from Aristocats
Marie, the cutest Aristocats, or her friends, Disney Characters, will meet you at Townsquare (Boarding House), for a great and big hug. A moment to snap, absolutely !
The afternoon :
Maleficient's courtyard
Maleficient is ready to cast a spell and create terror. She will take the courtyard of the Sleeping Beauty's Castle, to turn it into … the Maleficient's courtyard. Guests will recognise this creature with legendary horns under all thoses brambles… Enchanting atmosphere for a meeting with this impressive fairy. A chance to take a lot of pictures, and share evil moments…
It's good to be evil with Disney Villains !
Maleficient's spell will spread to the Royal Castle Stage. Every afternoon, audacious guests will challenge Disney Villain, and stike a pose with them. But will they charm them? Enchant them, until they die … laughing !
Who to expect :
The most chicken-hearted of all pirates, scared by a « tick tock ». A certain … Captain Hook (Peter Pan)
The one who LOVE to cup heads off : The Queen of Hearts (Alice in Wonderland)
The one who will be always jealous of the most beautiful girl of the kingdom : The Evil Queen (Snow White)
She's cruel, devil, and adore fur coats of … dalmatian : Cruella Devil (101 Dalmatians) !
He dreams to have a certain lamp … Jafar (Aladdin) .
Others Disney Characters may be there …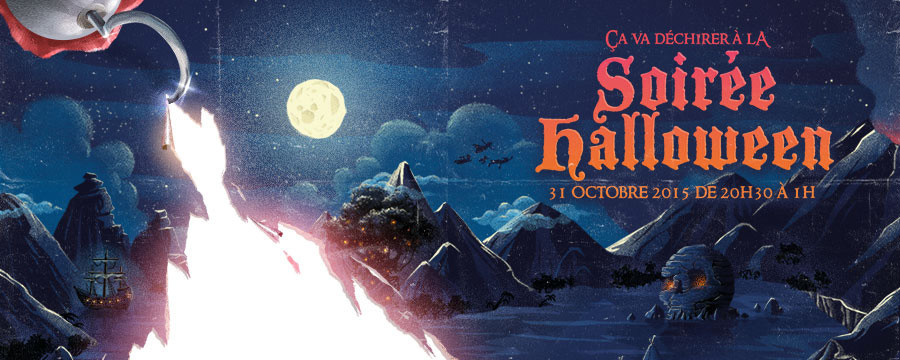 The Disney's Halloween Party will take place on the 31st october 2015 at Disneyland Park for extraordinaries shows and parades, meeting with Disney Characters, and others surprises. A unique experience to live in family or with friends, from 20h30 to 1h in the morning !
Price adult and children : 42 euros (french price – may not be the same for UK / US)
Holder of Dream Passport : you can have a 30% discount  (approximately 29,40 euros). Call the 08448 008 898 from UK.
Admission in the Disneyland Park from 17h.