Ladies and gentlemen, grab your hats and your glasses!
Are you ready to face Thunder Mesa's pharaminous race? You will be rewarded with thrills and a stunning scenery !
A curse you won't escape
Amerindian mythology mentions the existence of a Storm God: the thunderbird. This thunderbird protects the mines and its treasures. But if a miner tries to get these resources, the thunderbird creates an earthquake with the strength of its wings only.
Mr. Raveswood's Big Thunder mine is obviously not exempt from the curse….
The Big Thunder Story
A mysterious train takes you to the heart of Big Thunder Mountain, the mining operation of Mr. Ravenswood, the happy owner of the mansion that can easily be seen when you reach Frontierland.
As you wander madly through the mine, the Thunderbird causes a terrible earthquake! will you get out of this unharmed? Will you discover the gold that covers the walls of the mine?
Inspirations for Big Thunder Mountain
Frontierland takes place at a time when the Western United States was still under control. Frontierland's story at Disneyland Paris is set at the time of the gold rush between 1849 and 1885.
Big Thunder Mountain is the centrepiece of Frontierland, the element that sets the pace, atmosphere and action. Its design is inspired by both Monumental Valley and Bryce Canyon.
In Paris, the Imagineers decided to make the attraction more exciting by making it go underwater at full speed, even if they didn't think it was possible at the beginning.
To make the attraction look taller than its 33 meters, Imagineers used forced perspective, with large trees in the foreground and small trees in the background, and using subtle, pale colors in the background, and more vibrant colors in the foreground.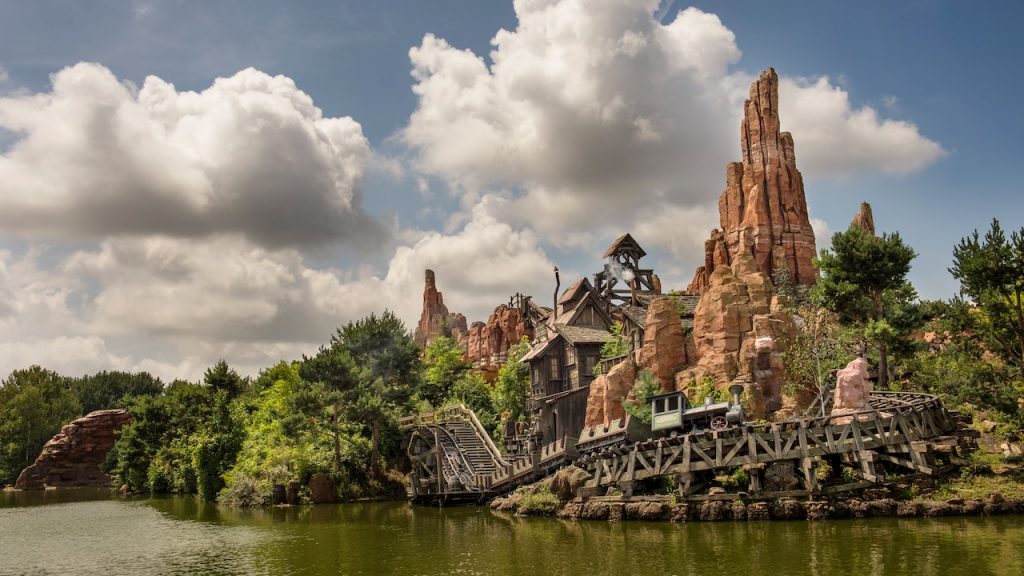 Details
Big Thunder Mountain is a roller coaster. After getting on one of the 5 trains at your service, you will ride under the Far West River through a noisy tunnel, full of water, to reach the mine. This is followed by a race at 65km/h in the Thunder Mesa mine for more than 3 minutes. Then you will return to the station through a tunnel full of bats, which threatens to collapse at any moment. Ha thank you the thunderbird huh!
Big Thunder Mountain is composed of 7 audio-animatronics, and about 1 km long. Each of the 5 trains is composed of 5 carriages and each carriage contains 6 seats (3 rows of 2 people). Drops (up to 12 meters!), sudden stops and splashes are planned.
Tips: Take a FastPass as soon as possible in the morning.
What you might want to know
Waiting time: 1 hour to 1 and a half hour
Loved by: families, adults, teenagers and courageous children!
Side by side seating: 2 people, 3 row in the carriage
Minimum size: 1,02m
Pregnant women: forbidden
Fastpass: yes
Single rider: no
Extra Magic Time: no
Discover more of Mr. Ravenswood past, in Phantom Manor !