The car park of Disneyland Paris is the nearest car park of the parks! For a well organized arrival, here is some useful information:
Where is it?
On the A4 highway, choose exit 14 "Marne-la-Vallée / Val d'Europe – Parcs Disney®".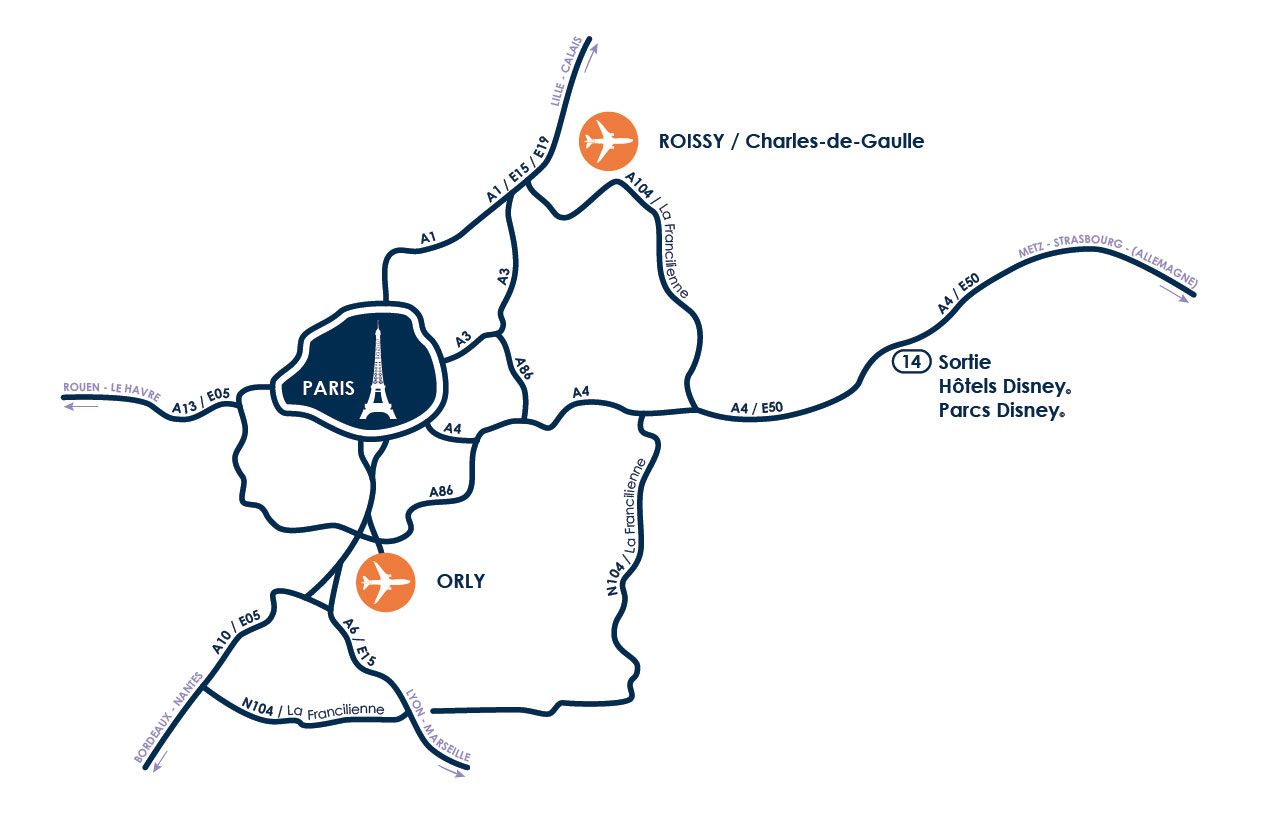 For GPS, here is the information to fill in: Latitude : 48.876077 – Longitude : 2.79646 (Parking Disneyland® Paris)
As well as the precise address:
Street: Boulevard du Parc
City: Coupvray
Zip Code: 77700
Country: France
As for the arrival at the car park, it is accessible from 7:30 am, and until 30 minutes after the closing of the Disneyland Park.
You can leave the car park any time in the evening, the exit is not regulated by a precise schedule. However, no vehicle (except motorhome) can park at night after the visiting hours of the Park or Disney Village.
The price of Disneyland Paris car park
To organize your budget at Disneyland Paris, here are the prices of the Disney Parks car park according to your vehicle (prices checked the 25th april 2018) :
Cars less than 2 metres high (including bike or ski rack on the roof) :

25 €

Vehicles more than 2m high and more than 9 seats (like buses) :

25 €

Motorhome :

40€ par jour

. Motorhomes are the only vehicles allowed to stay overnight in the car park (on the specific car park for motorhomes). They must pay the daily parking fee. They will receive a dated receipt at the toll booth (Toll Plaza) which must be renewed each day of parking.
Motorbikes :

20 €
Trailers and caravans are not accepted.
Are there parking spot for people with disabilities?
There are parking areas for people with a European Parking Card. If this car park is full, other signalled spaces are available in the regular car park.
For Annual Pass
On April 25th, 2018, the car park is free for Dream, Fantasy, Magic Flex and Magic Plus Annual Passport holders.
Parking is also free, with special area for Infinity Annual Passes.
It is optional for holders of the Francilien Annual Pass for 30€, and for the Discovery Annual Pass for 40€.
This is only valid with the definitive Passport. If your annual passport is temporary when you pass the toll, the car park fees apply and are non-refundable.
What if you're in a Disney Hotel?
If you stay at a Disney hotel, the Disneyland Paris car park is free. However, you can leave your car in your hotel car park, which is also free, and use the free shuttle bus every 12 minutes, or come quickly by foot via Disney Village.
Beware though: Disney's Davy Crockett Ranch does not offer a shuttle and is not accessible on foot!
What about partner hotels?
If you stay in a partner hotel, and have booked through Disneyland Paris, the car park fees are free.