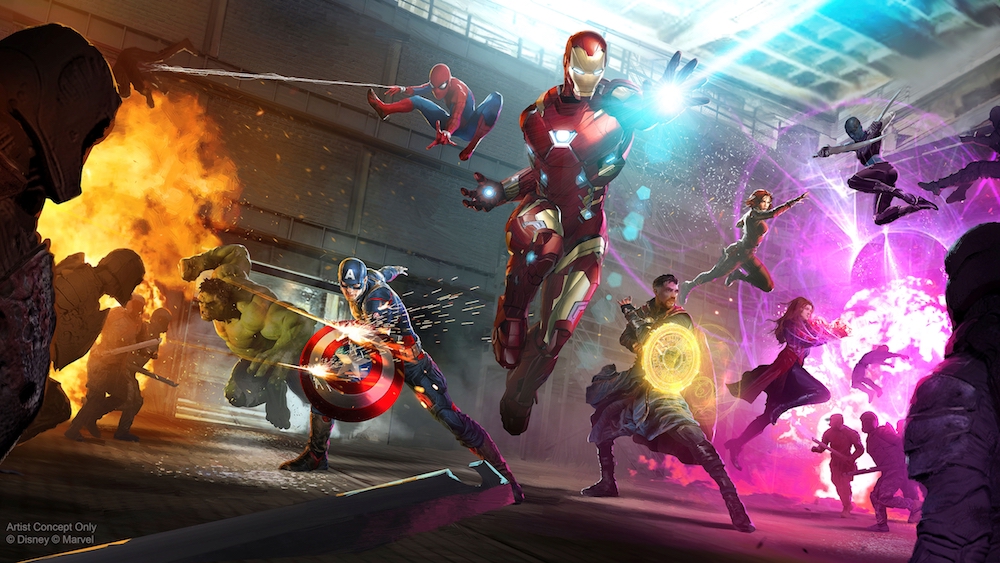 It's a huge show in preparation at the Studio Theater, in the heart of Walt Disney Studios Park. On the program of this blockbuster: live action with Thor, Iron Man, Black Widow, Doctor Strange, Black Panther and Spiderman, all on stage, to name but a few. But there are also special effects at the cutting edge of technology that will make the incredible Hulk or the fearsome Thanos appear before your eyes. Something never seen before at Disneyland Paris. You can also expect spectacular screenings and other big surprises… One thing is for sure: you will witness an epic adventure never seen before.
The story: "Thanos has found a way to manipulate the Avengers and their partners, in order to destroy them. Will the heroes make it? You will discover this in this show, with a story full of adventures that will keep you in suspense".
Marvel: Super Heroes United will stage the emblematic figures of the Marvel universe around three themes: origins, duality and alliance. This 20-minute show will be presented several times a day at Walt Disney Studios Park.
The show Marvel: Super Heroes United will bring together superheroes. Between projection and live stage, the show will take place sometimes on the 400 square meter stage, sometimes on one of the largest LED screens in Europe, with many special cutting-edge effects, and the use of drones indoors providing aerial choreography. The projections will be all around the visitor.
Marvel: Super Heroes United combines the latest technologies to create a 100% immersive universe.
In short :
A gigantic stage of more than 400 square meters
A projection area of approximately 1,000 square metres
One of the largest LED displays in Europe
A 180-degree immersive video environment with over 30 projectors
Special effects and stage pyrotechnics
80 light projectors and mobile sets
The Studio Theatre at Walt Disney Studios Park has been completely rethought to host this cutting-edge show
For the realization of the works, from the study to the execution, this project will have involved in one year nearly 300 professionals
The show will be presented up to 5 times a day during the season
You also can meet Spiderman in the Walt Disney Studios Park, and get ready for the future Marvel attraction, which will replace Rock'n'Roller Coaster!