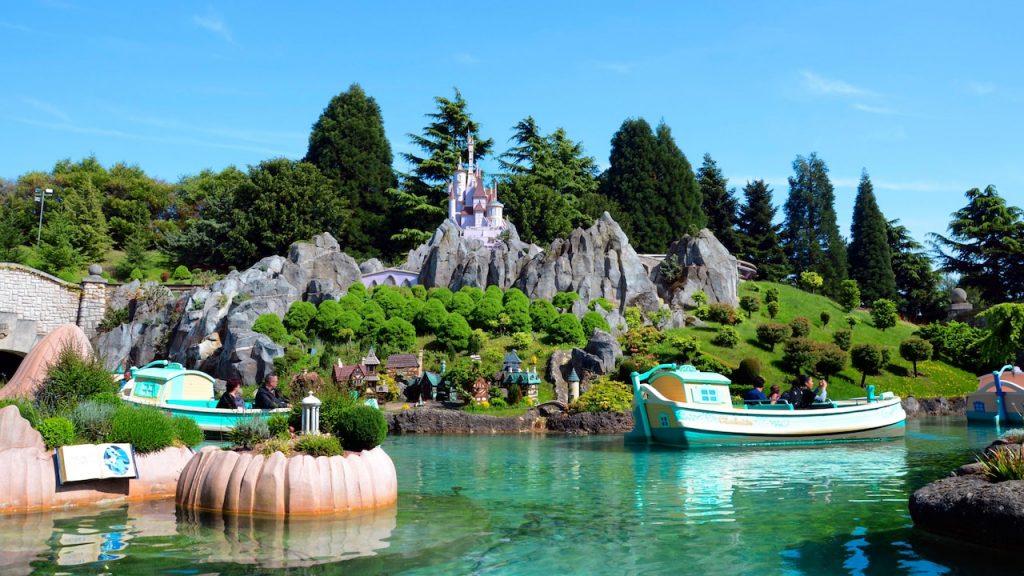 Le Pays des Contes de Fées is the twin attraction of Casey Jr. Le Petit Train du Cirque. Both offer a ride to Storybook Land.
A cruise to Storybook Land
In le Pays des Contes de Fées, you board a boat for a pleasant little cruise in the heart of Storybook Land, a miniature world tour of the great Disney classics with an associated music, which also represent European countries.
The dwarfs' mine and house (Snow White and the Seven Dwarfs)
The gingerbread house (Babes in the Woods)
Rapunzel's high tower (Tangled)
The Old Mill
Prince Eric's seaside castle (The Little Mermaid)
The Greek temple and Mount Olympus (Fantasia)
Snow-covered landscapes from Peter and the Wolf
The 'Night on Bald Mountain' (Fantasia)
The Cave of Wonders (Aladdin)
A scene from The Sword in the Stone
Belle's village and the Beast's castle
The Emerald City and the Witch's Castle (The Wizard of Oz and Return to Oz)
What you might want to know
Waiting time: 10 to 20 minutes
Loved by: everybody!
Side by side seating: 4 people if children
Minimum size: none
Pregnant women: accessible
Fastpass : no
Single rider: no
Extra Magic Time: no